This weekend was all about having my cake and eating it too. I wanted a pretty quiet and domestic centered weekend, and I was able to achieve it for the majority of the time. Saturday was filled with a walk around the vast neighborhood to pick up some needed things and luxuries from the local stores. We picked up coffee and mustard, kitchen supplies from the commercial kitchen supply store, and some Nutella for crepes. We worked on various hobby projects and watched some television that we had on the dvr.
One of my most favorite things to do on days like this is look around antique stores. I am not a fan of the nicely organized ones with all hand picked items. I like ones that are kind of a jumble of many different things with completely no organization to them. It is fun to scan around like you are in a gigantic "I spy" game come to life and find something truly great that you want to take home with you. We headed out to my favorite place for this as I am currently on the hunt for a great cake stand. I found quite a few in different places tucked away for safe keeping, hopefully, until such a time as I can buy one. Dan had his eyes on a particular coffee set that seems to have finally found a home. He was a little disappointed.
I did, however, help out with cheering him up. I found a basket of various glass percolator tops from long forgotten coffee pots. I have an odd love for percolated coffee, even though I know it is not the best way to make coffee, nor is it considered the best tasting by coffee aficionados. When we got married, we registered for the coffee percolator, but we were sad to find, at the time, that there were no glass domed ones. We received our somewhat boring plastic knob one and thought that someday we would get a replacement. While I do have my now beloved 1940's Silex glass domed lid for the stove top, the electric one is our go to coffee pot. We decided to take on a few of the orphaned tops and modify our current percolator. After quite a few drill bits being destroyed from our starter bit set, we called it a night. The next day, new bits and a specialty bit later, we had a perfectly modified and working glass topped percolator!
During the Sunday hardware store run in the rain, I decided to go into the garden center for a tomato cage for the now cage-less plant, I found a very flooded rosemary plant to take the place of my now rather defunct one. While I love the thought of trying to nurse the old plant back, it is rather deflating to look out the window and see the brown evergreen there with just a few green spots on a couple of branches. I think I am ready to let it go and replace, so I rescued this plant from the drips through the canopy.
After completing the coffee project, it was time for a good cleaning of the kitchen and some baking. I decided to make the yellow cake that I had always wanted to make out of my Cook's magazine. I had been reminded of it while watching America's Test Kitchen the day before. It turned out really well. While my attempt at the frosting was a bit disastrous due to my butter being too warm, it still tasted great despite the off texture.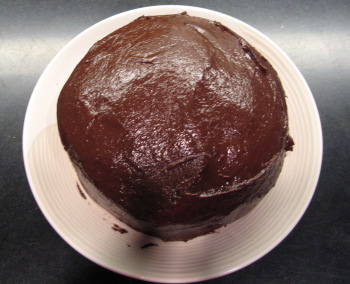 I have to admit that I am becoming more and more a convert to from scratch cakes. Although my Devil's food attempt a few weeks ago was not so great, the cake was really dense, this one was rather light and delightful in flavor. It also does not take that much longer to make a cake from scratch as it does from the box. I also like the fact that I can make my mini cakes for the two of us, so we do not have a big cake knocking around for a week getting stale as we try to responsibly eat it with proper portions. With a cake mix, this becomes less possible as you have to halve eggs, which is never an easy thing to do. While I think the cake would have looked prettier on a cake stand, it tasted quite good on its own. I guess I will have to see what my up coming birthday yields for cake stands, but overall this weekend I was quite able to have my cake and eat it too!